Solid plastic polymer plastic restroom stalls. If your restroom partition area experiences high-levels of traffic, high-humidity, or corrosive elements, consider a resilient and long-lasting material for your toilet partitions and doors. Solid plastic toilet stalls are made of HDPE, or high-density plastic polyethylene, resins. HDPE is known for its high-strength-to-density ratio, making it an exceptionally durable option for any restroom area. This material is resistant to impact, graffiti, scratches, and other forms of damage. Solid plastic partitions require very low maintenance since the surface is highly impermeable to water, odor, moisture, rust, and mildew. This also makes clean-up easy because most commercial cleaning agents will not damage the surface, and stalls can be hosed down or steam cleaned if needed. This sturdy material is offered in many different color options, ranging from basic to bold. You will never have to worry about peeling or repainting your solid plastic partitions because the color is injected directly into the mold, saving you time and money in the long run.
If your public or commercial bathrooms will experience heavy use, reduce your risk and costs by choosing a dependable material such as solid plastic for your partitions. We sell complete sets as well as individual pieces for your commercial restroom such as dividers, doors, screens, and more. If you are designing a restroom that does not fit the standard sizes, please send us your drawings by fax to 800-642-2406 or by emailing sales@robertbrooke.com, so we can better assist you with any specialty needs.
Solid plastic toilet partitions have long lasting durability because they are made with a HDPE (High-Density Plastic Polyethylene) resin. These restroom stalls are ideal for high traffic facilities such as airports, schools, parks, shopping malls, stadiums, YMCA facilities, bars, and many more places that need long lasting partitions.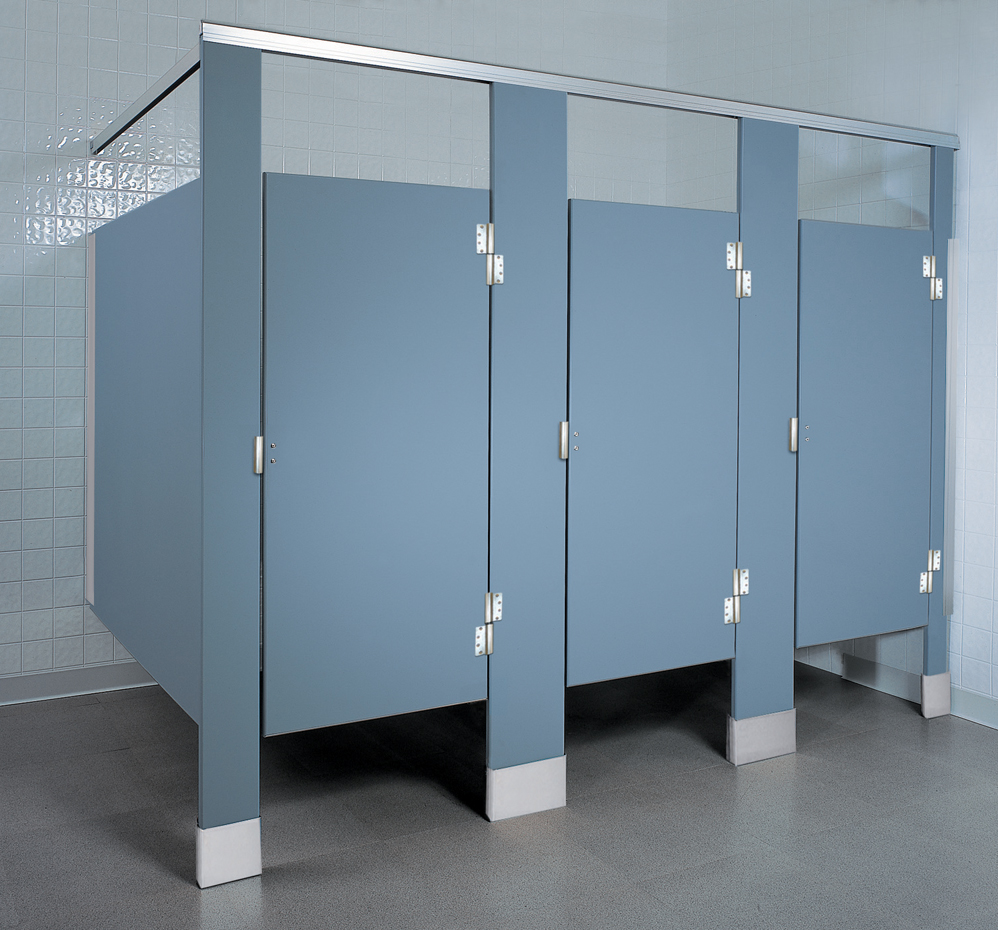 The commercial plastic partitions are designed to stand strong and overcome abuse and moisture. This solid plastic product will not delaminate, dent, flake, crack, rust, bend or break. The material is all 1" thick and is very similar to a cutting board at your house that is made from durable plastic. The plastic material features solid color throughout, which means that minor scratches can often be successfully repaired easily.
We recommend solid plastic to be used in moisture rich areas or shower areas, as this product will never rust over time. All the hardware is either stainless steel or aluminum which will never rust as well.
Most hdpe solid plastic toilet partitions manufacturers provide a warranty of 15-25 years, however, the toilet partitions will last up to 40+ years if properly maintained.
Some of the top manufactures include Hadrian Manufacturing Corporation, Global Partitions Corporation, General Partitions, Hiny Hiders-Scranton Products, Knickerbocker Partitions and Accutec Partitions. All six manufacturers offer quick shipping times for fast deliveries to our customers within USA.
The most common configuration for solid plastic toilet partitions is an overhead braced floor mounted unit. Adding an anti grip top rail extruded aluminum offers maximum strength, rigidity, and a clean line appearance. All of the material is 1" thick. Door kits have many options from traditional aluminum wrap around or full length piano hinges. The latching for the doors is a standard surface mount slide latch in aluminum or stainless steel. All brackets and door hardware components are aluminum or stainless steel. Pilaster shoes are a one-piece welded design of polished stainless steel.
Solid plastic bathroom partitions can also be ceiling hung braced which presents a clean, contemporary appearance. They permit quick, easy floor maintenance, especially when combined with wall-hung fixtures. Ceiling hung partitions are recommended for modernization where a drop ceiling or open span construction can be used.
Floor to ceiling units are extremely strong and resistant to abuse as they are securely connected to the floor, ceiling and walls. This configuration is ideal for high abuse areas and installations that require extra durability.
In all of the different options for bracing the only thing that changes are the pilasters that go on either side of the doors. The stall doors hinge off and close onto a pilaster. Overhead braced is what the factory's stock for quick shipping.
All commercial bathroom partition manufacturers now offer a no sightline solution for maximizing privacy. In addition, most manufactures use a full height, continuous stop, and hinge side filler to completely eliminate all sightline gaps around the door. A full length rubber bumper on the stop deadens sound and protects against wear. The versatility of the no sightline solution means it can be used in new and pre existing installations. Continuous stainless steel channels for all the panels and pilasters to create even more privacy.
Robert Brooke has been a trusted name in the commercial toilet partition business for over 48 years. We're eager to help with the configuration, selection, and purchase of solid plastic toilet partitions.